An Interview with Brittney Woodrum: The Fourteeners Project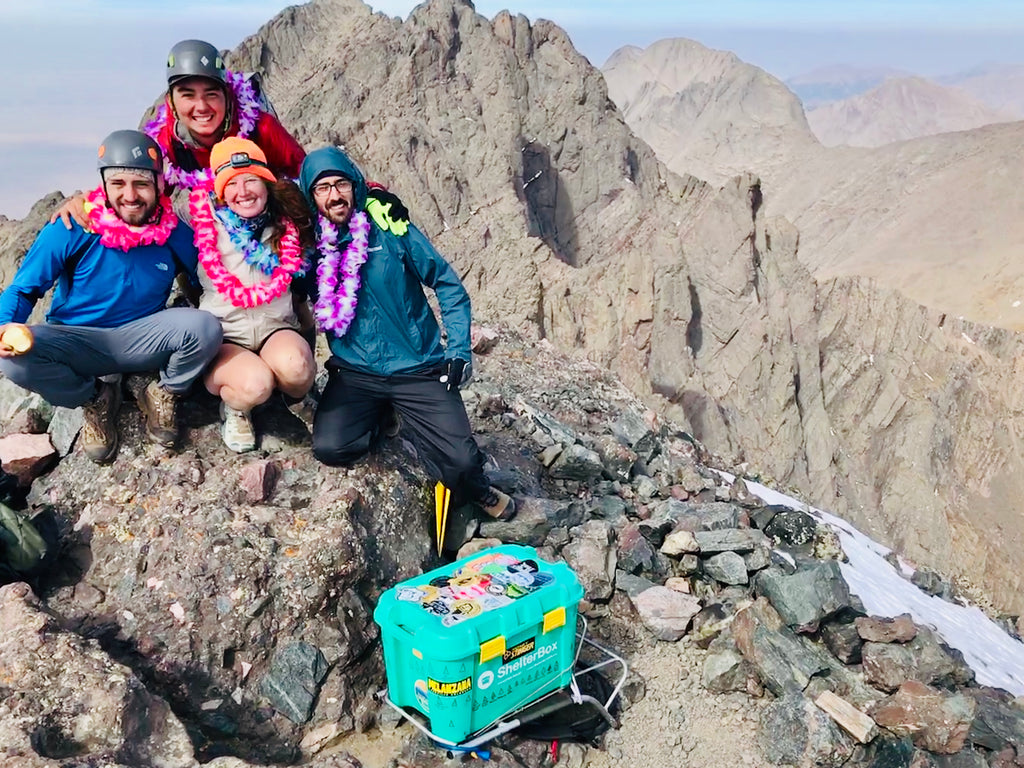 Figure 1: Bert atop final summit Crestone Needle with All Peak stickers on ShelterBox
Every once in a while, you meet someone you are wholly impressed with and think, "that person is going to go places". Brittney Woodrum (or Bert to her friends) is one of those people. She's a special mix of elite athlete, modern-day adventurer and erudite defender of the less fortunate.
I discovered Bert in an article I read earlier in the year. The article described a Kentucky-native who set-out to summit all 58 of Colorado's 14ers (peaks above 14,000 feet) in a single summer to raise awareness and money for families affected by disasters - specifically, a non-profit named ShelterBox. The charity is based in the UK and provides emergency shelter and other aid items to global families who have lost their homes to disaster or conflict. 
Figure 2: ShelterBox aid contents
As a ShelterBox ambassador, Bert already had a thorough understanding of the organization's mission and the growing need as a result of COVID. Therefore, when she was looking for her next big challenge, ShelterBox was a natural fit. ShelterBox ships relief items to affected areas/families in a cooler-like box colored seafoam green, like grandma's family Jell-O. To call attention to the cause, Bert committed to strapping a box to her back for each mountain ascent.
Figure 3: ShelterBox with All Peak logo sticker atop a 14er
I caught up with Bert via phone for a little Q&A after she completed her Fourteeners Project. First a little background. At 27, Bert is currently studying for a degree in Humanitarian Assistance at the University of Denver. Prior to coming to Colorado, the Kentucky-native studied non-profit administration and Spanish and graduated from the University of Kentucky.
While most people look for a job after graduating from college, Bert's wanderlust ignited a passion for tough physical challenges, travel, and cultural exposure. She completed the Fourteeners Project, on September 26th, 2020 by knocking off the summit of Crestone Needle. In under 80 days, Bert climbed 58 peaks, racking up 232,300 feet of elevation, 540 miles and raised approximately $85,000 for ShelterBox. Did I mention she had never climbed a 14er before she started the Fourteener Project? 
Q: When were you first bitten by the wanderlust bug?
A: I have always been a student of learning. It's been the core of my DNA. Life is no greater teacher. Growing up, my father's job took him to lots of countries and although I never went with, he brought home exotic things. My parents were supportive of my dreams. "If you can support yourself, then we support you", they would say. Studying a language (Spanish) was a catalyst that opened so many doors for me. I loved learning languages and in my free time I'd spend it studying a language. It's a puzzle. Once you've cracked a code, you have this incredible tool to communicate with others in an intimate and unique way. This inspired me to go to new corners of the world, a desire to learn about places.
Q: How did you come to be nicknamed Bert from Brittney?
A: It's just a quick switch of the letters from Britt to Bert. In hiking culture people love to give you nicknames. Last year I joined Habit for Humanity cycling across the country. My box had Bert on it and…it stuck.
Q: You've hiked the AT (Appalachian Trail), Camino de Santiago and now all the Colorado 14ers. Which trek was the hardest and why?
A: Between the AT and the Fourteeners Project, it's hard to say. There was more effort on a daily basis for the Fourteeners Project. It was logistically harder. With the AT, all you have to do is follow the white blazes. However, I didn't have to carry nearly as much weight. Also, the Fourteeners Project, I [was able to come back] to the car end of day - with access to more resources. The AT was in the forest for 4 1/2 months. I had a lot of mental fatigue with both trails, but especially on the AT. You get a lot of scenery change. I missed human contact [on the AT], but got to chat with friends and family online with the Fourteeners Project. I would do the Fourteeners Project again. The AT would be hard.  
Q: You're going to take some well-deserved rest. What's next for Brittney Woodrum after that? When do you hear about the Rotary Peace Fellowship and if you were accepted?
A: Yeah [laughing], I'm tired. I will find out in about a month [about the Fellowship], early to mid-November. My goal is to be of service in the world to people who have lost something at no fault of their own. I spent a lot of time in Myanmar. The people I met there were special to me. I would like to focus a lot on that part of the world. I'm currently getting my Certification of Humanitarian Assistance from the University of Denver. I like to fix problems at the root. The Fellowship is very competitive. If I do get it, it would start 2022. 
We wish her luck! Bert's new home for the moment is Leadville, Colorado. She fell in love the area during her trek through the 14ers. Leadville will be a basecamp to save up, rest, plan her next project, and be in the mountains in a different season.
Her next project may include the CDT (Continental Divide Trail), the tallest 100 mountains or the White Mountain 4k's. She's confident she'll do more summits and likely see that seafoam green ShelterBox again.
Figure 4: Bert atop Castle Peak
Bill Long