Inside the World of a Professional Mountain Climber: Hanging out with Kurt Wedberg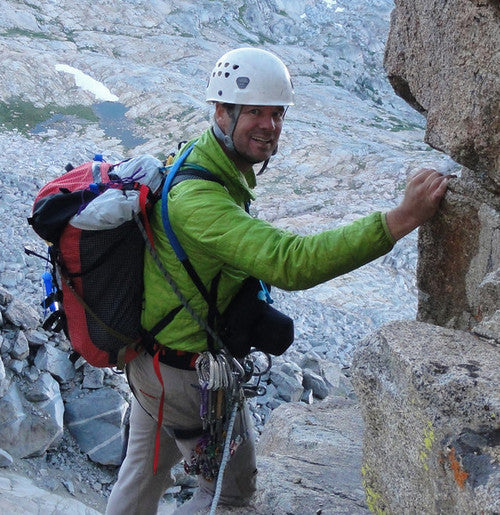 I recently spent a few days with Kurt Wedberg, Founder of Sierra Mountaineering International. Kurt was good enough to be a key speaker for a dinner in the Dallas-Fort Worth area that I helped arrange.  
Admittedly, Kurt hadn't stepped foot in the North Texas flatlands before, but he's a monster on the summits. Growing up Kurt spent much time in the Sierra Nevada's, inspired by the beauty that surrounded him. He founded Sierra Mountaineering International in 1995 after returning from his first successful expedition to Mt. Everest. He has since summated Everest two more times. He has over 25 years of mountaineering experience in the Sierra and has guided over 100 expeditions to the high peaks on every continent. After completing Carstensz Pyramid in Indonesia, Kurt has the distinction of summiting all Seven Summits – the highest points on all seven continents.  
The Seven Summits club is a small and growing cadre of extreme outdoor athletes. A little over 400 have achieved the distinction and fewer still accomplish these feats over and over as guides for their clients. They are the professional athletes of mountain climbing. We who struggle up the casual 14er look up to them. They travel to the far-flung corners of civilization and tackle immense physical challenges getting to the tops of the world.   What does it take to get to that level? Are professional mountain climbers different from the average climber? Here are some insights I learned from hanging with Wedburg.  
Your Body is Your Temple  
There is a big difference between amateur and professional. Professionals train and maintain performance at a high level. This was the first thing I noticed. It takes discipline in maintaining a healthy body through diet and exercise.  
I treated Wedberg to some fine Texas BBQ, which seemed to fit his Paleo-lite diet just fine. He avoids beer, sugars and complex carbohydrates like breads and pastas. I find it hard to imaging a world without beer, chocolates and pizza. That explains why my physique looks the way it does. "Well what's your guilty pleasure?" I ask. "Wine" says Wedberg. Particularly a malbec from the Mendoza region he frequents on client-led expeditions.  
Exercise was also on a different level than most. I would think that after leading expeditions above 20,000 feet one wouldn't need to do much but relax and repair. Wrong. Wedberg is a fan of the Cross Fit gym. The constant mix of cross training exercise keeps his muscles challenged and body strong to avoid injury. To counter workout boredom, this approach gives you a new workout every time.  
Live Life to the Fullest  
Do you like rewards? We all do. The journey of climbing to the top of big mountains is a reward in itself, but why not enjoy the surroundings a bit more? "We sell the life experience of the trek, but also the greater experience of the surroundings", says Wedberg.  
Kilimanjaro is one of the best examples of the greater experience.  You get to hike through five different climate zones on the way to the summit. Afterwards, reward yourself with a life changing African Safari.  
Aconcagua in South America is another example. How can you deny the amazing experience of soaking up Mendoza wine country with great food and drink – obscene amounts of gaucho, grass-fed beef, grilled rounds of provolone and goblets of great red wines. Yes please!  
Moreover, not everyone can enjoy the world in the same way we can. In his travels, Wedberg has seen staggering poverty and inequality – especially when you see that people with so little are willing to give you the food off their plate. Helping others has also been a key to living life to the fullest. Philanthropy plays a big role here. Wedberg's team has helped raise awareness and over $250,000 for various causes at home and abroad. [See my blog post: Guiding Principles]  
Have an Easy-Going Attitude  
You've been there before. You are out on a trek and something happens that you didn't plan for. Bad weather hits you, someone gets injured…or you get lost. These challenges on top of fatigue and hunger can bring out the worst in people. After days on a trail with people you thought you liked just two days ago, you now conspire to kill them in their sleep.  
Having an easy-going attitude is crucial for group cohesiveness in the wild. I noticed that Wedberg had this demeanor. Maybe it was the California in him. I asked, "How do you deal with the affluent, eccentric types that are used to having their way all the time?" "Clients are used to being the boss. Sometimes I have to let them feel like they are in charge", replied Wedberg. Staying cool under fire helps too.  
These are the traits of a professional mountain climber, viewed from the outside-in. Are these traits of all professional mountain climbers? They should be…at least of guides we hire that are responsible for our wellbeing.