Keep Your Crampons Under Control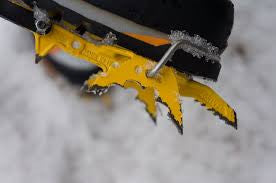 Full-on rigid crampons, semi-flexible hiking crampons, and ice grippers like Kahtoola Microspikes (which are really just small, chain-mounted crampons) can be real life-savers when crossing ice or hard-packed snow. They can also tear right through your other hiking gear if you're not careful.  
Have you stashed your super-light (and super-expensive!) alpine jacket in your pack with your crampons? Guess what, the crampons will win. Got an extra hydration bladder rattling around in there? Not for long -- unless you stow your crampons in a protective case. If your crampons are in a proper case, you can pretty much toss them anywhere. No case? Try these tips on for size:  
Apply protective tip covers to the crampon points before you put them away.
Nest the sharp ends together. Or in the case of Kahtoolas, which don't have any real structure -- just chains holding the spikes to the stretchy rubber "upper" -- roll them up with the pointy ends facing in. Use a small bungee or a super-size twist tie to hold everything together.
Stow crampons in a separate compartment within your pack. If your pack has a separate bottom compartment (sometimes called a sleeping bag compartment), this is potentially a great place for your crampons. Smaller front pockets are good storage spots too, as long as you've got the crampons' sharp points under control.
Strap the crampons to the outside of your pack, either nested or with points facing out. For a little extra security, clip them in place with a carabiner that goes through both crampons and around at least one secure attachment point (or strap) on your pack.
Lisa Maloney is an avid hiker and freelance writer based in Anchorage, Alaska. She's the author of 50 Hikes Around Anchorage and writes for About Hiking. You can follow Lisa's hiking adventures on Twitter at @About_Hiking or on Facebook.
Bill Long