Spring Is for Hiking: 2 Tune-Up Hikes in Tucson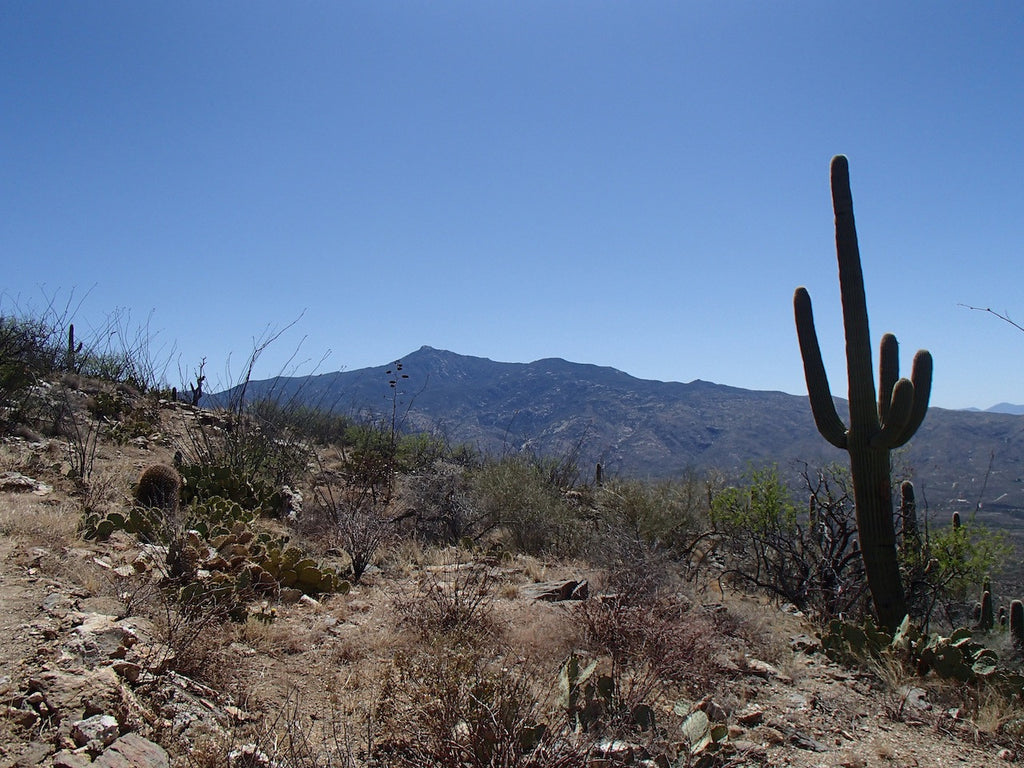 As "winter" (for lack of a better word) rolls into spring in southern Arizona it opens up more opportunities to warm up those climbing legs for some great vertical hikes.  
During the winter, while all the trails are open around Tucson, everyone stays in the rolling flats of Saguaro National Park (SNP), the Arizona Trail's (AZT) southern reaches and loop trails like Sweetwater. This is partly because the upper trails in the Santa Catalinas and Rincons are prone to snow and partly because we have an opportunity to enjoy these lower elevation trails before heat drives us upland.  
Spring, however, is the best time to explore the massive elevation gains (and losses) presented by local trails. You can start your morning in the cool canyons near Sabino and end your day in the shade cast by ponderosa pines at the top of Mount Lemmon.  
There are three mountain ranges within thirty miles of downtown Tucson with elevations greater than 8500'. Most of the trails that access these ranges start at 2800-3500'.  There are numerous trails in the Santa Ritas, Catalinas and Rincons that can easily offer up impressive elevation gains.  
By late spring (April-May) the snow in the high country has melted and the heat below is beginning to make all day treks in the desert uncomfortable. Instead try these great hikes that offer the best of all worlds: a warm start (no coat), and a warm but not hot mid day.  
Here are two options, one from the Rincons and one from the Catalinas   The Santa Catalinas are the easiest mountains to access in the Tucson area. Sabino Canyon Recreation area offers an excellent opportunity to begin in the desert and climb to the higher elevations. There are several trails that leave from the parking lot, and depending on your level of commitment you can do any number of out and backs along the popular Phoneline Trail, which hugs a ridgeline over Sabino Canyon. There are several loops available within the first few miles of Phoneline affording a Tram ride in or out, or a road hike in or out.  Some sample elevation gains: 4 miles out and back 1014', 12 miles out and back 3962' or you can do the popular Bear Canyon loop which either begins or ends on Phoneline and incorporates the Bear Canyon Trail. This loop offers no real bail-outs, but is both rugged and beautiful. The Bear Canyon loop is almost 18 miles in length and climbs 3097'. 
From Sabino Canyon you can cobble together trails that scale the Santa Catalinas all the way to Mount Bigelow (9157'). Trails are rugged and rocky, so be prepared. As you leave the congested lower areas of the park expect more overgrowth and poorer footing. Most trail junctions are marked.  
While the Catalinas are easy to access the Rincons offer a rare roadless opportunity to explore a sky island. This range is almost entirely surrounded by Saguaro National Park on the west and south. There are several trails that start at the base of the Rincons and take you swiftly into the pine trees.   A great, lesser-known trail is the Quilter Trail (part of the Arizona Trail System). This trail starts on the southern flank of Tanque Verde Ridge and provides stunning views to the south. An out and back from the Camino Loma Alta Trail Head (Saguaro National Park) of just 12 miles will take you up 2,037 feet above the desert floor. A harder 20-mile out and back takes you to Cowhead Saddle in the pines and accumulates 3724 feet. Lastly, a point to point that starts on Quilter and ends at the Picnic area in SNP at Tanque Verde Ridge Trail Head will cover 22.59 breathtaking miles and climb 5453'. 
Again these are tough, rocky trails – so come prepared. Do not expect water along any desert trail, and remember: if the weather is perfect for hiking, it's perfect for snakes.  
Liane Ehrich is a (very slow) ultrarunner, cyclist and triathlete who lives in Southeastern Arizona. Her articles on outdoor adventure in and around Arizona can be found at http://www.examiner.com/outdoor-recreation-in-tucson/liane-ehrich, or you can follow her exploits on Facebook or Twitter.