When Left Alone With Your Thoughts: Mental Boredom on the Trail.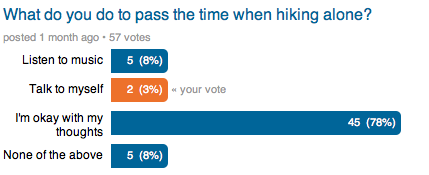 When I was a boy growing up in suburban Connecticut, time felt as it if were stuck in molasses. Summers were painfully slow. I drove my mother crazy with my nervous energy to the point where she would ultimately tell me "Billy, get outside and play!"  
I was lucky. I grew up with lots of natural things around me – a swamp, a pond, several streams and old trails used by animals and sometimes, a curious little boy. When I was sent to play outside, I'd end up exploring for hours on end.  
I had an imaginary friend. We'll call him "Manny". To this day I'm not quite sure what his name was. It was a mumbled, mish-mash of a bunch of my friends' names at the time…that I'm sure of. I would often talk to Manny and myself as I walked through the woods. Sometimes I'd create tense situations that Manny and I had to escape from. Other times I'd use Manny as a sounding board to bounce options around like, "Should we climb the log over the river, catch crawfish in the pond or climb the boulders on the cliff?"  
Years later I can count on one hand the times that I've been on the trail by myself. I remember them all. Solo hiking is a great way to see things you might not see if hiking with a group. For me it's a way to disconnect with the world and just think.  
Most of the time I am quiet…absorbing the beauty of my surroundings and not at all bored. On occasion I mumble to myself. Turns out I'm not in the majority. To test this, I conducted a small poll of other hikers. 78% of them prefer to just enjoy the quiet solitude of solo hiking.  8% like to listen to music. There were only two respondents who talks to themselves, myself included. [See poll results above image]  
Having the "Listen to music" option with my audience opened up a little bit of debate. I'm guilty of listening to music (and podcasts) as I did on a two-day Tucson mountain trip. Listening to music on the trail should be done with caution. You don't want to be distracted from cues that you should be paying attention to – thunder, sirens, calls for help, growls, etc.  
So what about this talking to yourself thing…Am I crazy? Thankfully, no. It turns out that self-talk actually helps promote better results in sporting activities. A study was conducted about self-talk and sports performance and, "the results of this study establish the effectiveness of self-talk in sport, encourage the use of self-talk as a strategy to facilitate learning and enhance performance, and provide new research directions". That means that if you want to talk yourself into climbing that next grueling peak trail, by all means do it!
Bill Long