A Family Affair: 4 Tips for Hiking With Kids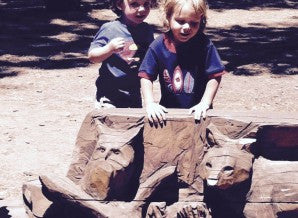 You love hiking - the oneness of being surrounded by nature, the adventure and the challenge. Now you have kids. You may be wondering, "Can we do this…together?"   The morning sun crests over the surrounding peaks, my breath is heavy, eyes clear and heart full, I can live in THIS moment. The high-altitude morning air stings my lungs with every step. I pause to take in my surroundings like a cool drink of water.  
Then it happens, I hear the sound of quick footfalls behind me. I turn to see a person half my size, pass me by with scant acknowledgement to my presence or hint of strain in their voice and in mid-conversation with the person behind them.  
I've always been impressed by the boundless energy of youth. Not every family is forged from the stuff of mountain goats. Here are some tips to help make hiking with kids a little more enjoyable.  
Bring a Friend  
You still might be the center of the universe for your kids, but as they get older they focus on friends and kids their age. Don't fight it. Bring a friend along that they can interact with. Kids are competitive and don't want to compare themselves with you. Two kids is good, three or four is even better. The psychological group dynamic ensures they will drive each other forward…like a pack of little Olympians.  
Build Up to Your Summit  
Start your hike out small and build up – 3 miles, 5 miles, 10,000 feet, 12,000 feet etc. You don't want to make any assumptions that your little one has the fortitude to trek the same distance and elevation that you can do. Make subsequent treks longer and longer until you feel assured they can handle the extra challenge.  
Think Like a Boy Scout   This goes without saying - Like a Boy Scout, "always be prepared". Despite having the latest and greatest REI gear, your preparedness should include a worst-case survival guide checklist. Besides the basics for food, shelter, first aid, emergency communication, navigation and protection (from elements, predatory animals, weather, etc.), consider the following:  
Snacks: Lots of kid snacks – crunchy, some sweet and preferably nutritious.
Extra water: Flavored water (e.g. Crystal Light) is a good way to ensure proper hydration when they tire of the boring old H2O.
Reading material: A comic book or magazine can double as fire starter if needed and provides you with some well earned "me-time" in down time.
Wipes: Kids are filthy. Bring along a fresh pack of wipes to help YOU live up the cleanliness standards you require. Along those same lines, pack a few Ziploc bags to pack out the uh…filth.
Make it a Game  
This is the creative part. Break the hike into small accomplishments. If there are waypoints along the way (a cabin, river, miner's entrance, sign, etc.), consider making it a scavenger hunt. This can be stealth learning for them too – e.g. first to see a pica, marmot, male goat, columbine, etc. They can capture their findings with a smartphone camera or journal. At the end of the hike, treat the winners and everyone else to dinner or some other prize.  
Time on the trail as a family is something your kids will remember for a lifetime. I remember my treks fondly. Enjoy your summer!