Quit Your Job and Crush Peaks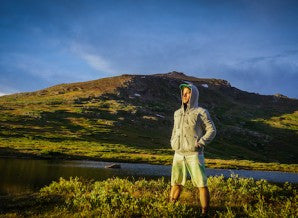 It was July. From my office window, I could see the impossibly blue Texas sky and imagine how hot it was outside the comforts of air conditioning. The high was 99 for the day – a typical summer. On days like this, I pine for the cooler alpine climes.  
That's when I got an email from Spencer Madden (http://mountainobsession.com). It read, "Hey Sherpa Bill! Spence from Mountain Obsession here. I am starting an adventure after quitting my corporate job. I will be down in Sept crushing 14ers."   Spence did what many of us only wish we have the courage to do. He quit his corporate job and set off on an adventure of a lifetime.  
I got the chance to sit down with Spence recently. We took in a hockey game and shared a few pints as I peppered him with questions about his current adventure and what was driving him.   Spence is a 26-year old Canuck with a healthy, athletic build and magnetic charisma. He is passionate about life. It shows in his eyes as a gleam that seems to get brighter the more he talks. His arms are covered with tattoos that stretch under his sleeves and hint at stories untold – leaves, mountain lions and other animals and nature scenes. From under his Toronto Blue Jays hat, a wisp of youthful, dirty blonde hair hangs above his brow as he begins to tell me about himself.
Origins
Spence grew up in Canada (Calgary mostly) and spent his formative years camping with his family. So from an early age, he fostered his love of nature. He is the oldest of three siblings. After graduating University with a degree in Business, he plied himself in the oil & gas industry.  
When asked about his tats, Spence said, "I don't really know [where it's going], it's turning into a tapestry. Every one has a meaning. I feel like it's the ultimate form of art that you carry with you." The maple leaf of his native Canada on the top of his hand is still fresh and bears some inky blue-black scabs.  
He worked very hard at his job. After only a few years of saving, Spence felt the call of the wild and the desire to do more with his time. He came up with three goals:  
Hike the Colorado14ers
Hike South America's Patagonia mountains
Thru-hike the Great Divide Trail in Canada
Adventure
When Spence got on the road, his quest to crush all the Colorado 14ers became diluted by the lure of adventure from all the other beautiful destinations the US has to offer. As a result, Spence gained an appreciation for Wilderness Areas that offered peace and quiet while shunning the crowds of more popular destinations. His favorite adventures were when he found himself alone with breathtaking scenery.
In Colorado, Spence did crush peaks – 15, 14ers and a handful of 13ers too. 14ers included: Mt. Elbert, Massive, Harvard, La Plata, Lincoln, Grays, Wilson, Bross, Cameron, El Diente, Sneffels, Democrat, Columbia, Pikes and Wilson Peak.  
I asked Spence about his most memorable 14er experience. He met a girl on CouchSurfing.com in Durango. We'll call her Maddy. She was originally from back east and was not only willing to host Spence, but also join him on his first 14er summit – at night! He just finished doing Wheeler Peak in New Mexico and met up with Maddy, her friends and one trail dog at the Mt. Sneffels trail head. The conditions couldn't have been any better. A full moon guided them to the summit. The weather was cool with no wind, so Spence did the summit in a t-shirt.
What Next?
In January next year, Spence embarks on the epic South American leg of his adventure. His motivation for South America is a mixed bag, including Spanish language immersion, meeting brown-eyed Latinas and of course - crushing peaks. He's always been obsessed with the Drake Passage, the southernmost point of the continent. Spence wants to take a dip off the cape horn. And yes, he is a polar bear purist – It doesn't count unless you submerge your entire body!  
Along the way, life's mysteries reveal themselves. Spence is learning a lot about himself and the world around him. The trail allows you to think clearly, especially when you don't see another human for days on end. A new business venture is in the works and Spence hopes to share his lessons learned with a future book.  
"I'm only going to get myself involved with activities or business where I can see myself making a difference with nature or humanity." says Spence with a far-away look in his eye. If only we all shared his perspective. I look forward following his adventures on the trail and in life. For the moment, I'll keep my day job and live vicariously through his adventures.