Minding Our Trails: A Conversation with Colorado Fourteeners Initiative's Executive Director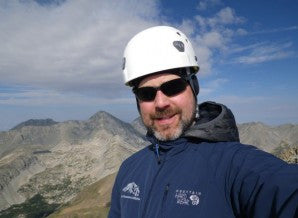 Trails take a beating. In Colorado alone, over 250,000 people hike the fourteeners (14ers) every year – and that number is growing rapidly. That's a lot of heavy boots kicking loose stones and trekking poles loosening up little clumps of dirt.  
We take for granted the well-planned steps and drainage ditches that crisscross our path. In 2015, over 600 volunteers helped hand-place stones to make steps, carted- up tons of dirt to fill holes and logs to build retaining walls. They braved unpredictable weather in some of the most remote and rugged areas in the country. The organization behind this work is the Colorado Fourteeners Initiative (CFI).  
Twenty-one years ago, when CFI just came into being, there were only two planned trails – Pikes Peak and the Keyhole Route on Longs Peak. Now the organization plans to raise approximately $30 million to keep all 14er trails maintained/restored.  
So when I had the chance to sit down with Lloyd Athearn, CFI's Executive Director and man in charge for the past 6 years, I took it. Here's what I learned.  
Lloyd lives in the mecca of alpine non-profits outside of the Denver area. In Golden and Boulder alone you have: Big City Mountaineers, Colorado Mountain Club, American Alpine Club and Leave No Trace (just to name a few). The area is a magnet to the most passionate minds set on advocacy, policy, sustainability and action.  
Lloyd shares many traits with peers in these groups. Often these groups work together on projects. CFI is partners to many groups including the National Forest Service and Bureau of Land Management. Lloyd grew up in Portland under the shadow of Mount Hood. It was an easy transition when he moved to Colorado as Deputy Director of the American Alpine Club in 1996. "That is when I began my love affair with the 14ers," says Athearn.  
When Lloyd joined CFI in 2009, it was a perfect opportunity for his unique skill set – a combination of political, policy and communication. When I asked Lloyd if he liked what he was doing, he replied, "I love my job! When you take your avocation and make it your profession…it's pretty cool." The organization is flourishing under his direction.  
CFI celebrated its vigintennial (20th anniversary) in 2014. To its credit, the organization has built 29 sustainably designed, durably constructed 14er summit trails on 26 peaks. Not only does CFI make hiking 14ers more enjoyable, but it also promotes awareness about the rare and fragile tundra ecosystems through which the trails pass. Amid the background of global warming, increasing tourism and popularity, it is critical to protect the surrounding environment from, well…ourselves.  
Moreover, the organization is becoming more modern and mainstream with its use of technology and donor outreach. Data is key to understanding the effects on our trails (human, environmental, etc). CFI has built a database with 20,270 points of data on the 42 inventoried summit routes. Infrared trail counters were deployed recently to try to gain an estimate on human foot traffic.  
Data is also the key to understanding those with affinity to support CFI's efforts. Lloyd is in the midst of CFI's first outreach in Texas – the 2nd largest donor pool outside of Colorado. Interestingly enough, individual contributions only make up 32% of CFI's revenues. The majority comes from grants. Lloyd's outreach includes visits to Dallas (REI and Texas Mountaineers), Austin (REI) and Houston (private groups).  
As an avid 14er fan, my talk with Lloyd helped to deepen my appreciation for all the work that goes into minding our trails. For more information about CFI please visit their website: http://www.14ers.org.