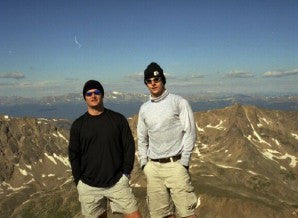 This is a story to give credit to those who play a big part in the creation of the All Peak brand.  Like the third grade teacher that got you to finally read or that coach that got you to try sports without making you hate it, there are people out there that deserve recognition.  
Pre 9/11 (Pre dot.com bust!):  I worked for a small start-up and made my rounds to my client offices in the Southwest. As I got to know one of my clients in the Tulsa office, Woody Lee, it became quickly apparent that he shared my passion for the outdoors.  
Woody wanted more of a physical challenge in his outdoor experience.  He adopted a Navy Seal workout regimen, learned the basics of rock climbing and wanted to see what all the fuss was about with hiking these Colorado Fourteeners.  I had spent time in the mountains but was unaware of this "club" of peak-baggers.  
My first Fourteener attempt was on Blanca Peak in the Sangre de Cristo range.  It was an epic failure (See "Packing For Your First Fourteener: Beenie Weenies Not Allowed" for that story). However, the trip gave me a taste for higher elevation. I was hooked.  
Democrat, Lincoln, Bross and Cameron were actually my first Fourteeners – all tackled in one very long day.  After that trip, with my brother Chris,  the All Peak concept was born.  I wanted a t-shirt to commemorate my effort. I settled for a summit photo and a laminated USGS quad map, courtesy of REI.  
The idea of a t-shirt to commemorate the peaks stuck with me long after the trip. I shared it with a couple of good college friends – Eric Emerson and Derek Neidig.   They liked the idea and quickly added their own skill-sets to the task: Create a brand that can represent the Fourteeners and other popular peaks. Put creativity and design first and serve the laid-back, casual market of climbers and hikers that the brand appeals to.  
Eric is the creative founder of the brand. His style and design come from years with the Fossil brand.  The flavor and imprint he leaves is part trucker-cool, part retro-hip.  His logo and initial designs (Collegiate collection, Little Bear, Long's Peak, etc.) are the engines that kept the idea alive.  
Derek was our web guy who's dabbling capacity for html allowed us to get online in a hurry and build our first shop.  His ideas for social engagement and creating a community were ahead of his day. We lacked the time or money to really push our ideas.  
That was 8 years ago. The site and the brand lingered as we all followed our own corporate career paths. A slave to my paycheck and demands on my time forced me to shut down the site. Now the concept is reborn. Finally, I'm able to expand our creative boundaries and do the things that the brand deserves: more designs, more lines, proper commerce and a community to share ideas and promote mountain hiking and climbing.  
In the spirit of the brand and its founding ideals, I wish you safe and happy hiking.  Climb higher my friends!
Bill Long