Guiding Principals: Big City Mountaineers Raises Over $280,000 on Mt. Whitney Climb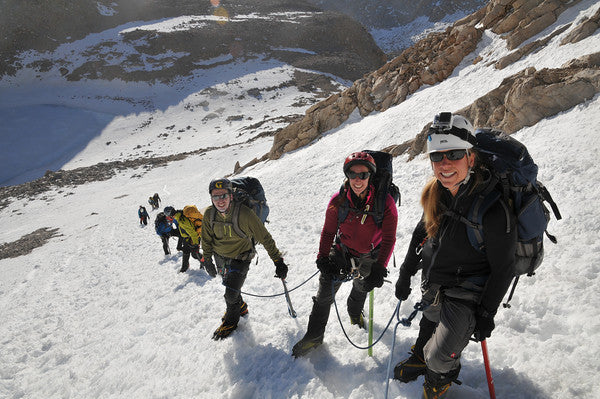 It has been a busy spring in the Sierra this year.  In April, Sierra Mountaineering International (SMI), hosted six climbs on Mt. Whitney with the goal of raising money and awareness for Big City Mountaineers (BCM).
BCM's mission is to transform the lives of under-served urban youth through wilderness mentoring expeditions that instill critical life skills. They partner with community-based youth organizations and caring adult volunteers who act as mentors in the field to help young people realize their potential. Their curriculum improves integrity, self-esteem, responsibility, decision-making abilities and communication skills in close to 1000 youth annually. BCM has a proven track record of improving young peoples' lives with:
Increased likeliness to stay in school
Reduction in violence
Reduction in drug use
The great joy of serving others has been a part of SMI since inception with the goal of guiding at least two climbs each year that help out a cause. On most years we exceed this number by three times or more.  In planning this year's climbs with BCM, the Editor-in-Chief of Backpacker Magazine, Jon Dorn, invited readers to come join a Mt. Whitney climb to raise money for BCM. The response was overwhelming.  Backpacker Magazine received 75 essay entries and 60 readers committed to raising $4,000 each. Participants could either get sponsorship by friends and family or write a check. What started as one climb ended up being six groups of energetic climbers eager to climb Mt. Whitney for the cause.
Participants were given a training program to undertake many months in advance in preparation for this four-day trip to the highest point in the contiguous United States. Each person maintained a regular schedule: hiking up and down hills carrying a 40+ pound pack to simulate the weight they would be carrying on the mountain. They also did exercises to assure their legs and cardiovascular system was conditioned. During the climb SMI guides offered lots of techniques for acclimating to the high altitude and also spent time at camp teaching and reviewing mountaineering skills including using an ice axe, and climbing with crampons while roped in with other climbers. 
Day One of the climb had groups ascending from the trailhead at Whitney Portal (8365′/2550m) to Lower Boy Scout Lake (10,350′/3155m).
On Day Two the groups packed up and moved higher to at camp at 12,000′/3658m putting them in position for a summit bid the following morning.
On Day Three the teams rose early for the summit push. They were treated to spectacular sunrises as the morning sun cast its orange glow on the East Face of Mt. Whitney and teams learned why the Sierra is nicknamed the "Range of Light". Climbing the Mountaineers Route requires climbers to ascend a snow filled chute ranging from 25-35 degrees steep to a "notch" at approximately 14,000′/4267m.  From here the angle steepens and climbers use their hands in places to scramble up some rocky sections with the security of a rope.  This section of the route tops out onto the summit plateau of Mt. Whitney and it's a short distance to the highest point in the lower 48 states. Groups took time to admire the spectacular view while taking pictures and snacking before retracing their path back to camp.  
On Day Four they packed up and returned to the trailhead and down to Lone Pine where celebrations of their climbs took place. While climbing a spectacular and classic route in the Sierra, participants helped raise over $280,000 to help underprivileged youth experience the magic of the wilderness while learning critical life skills.  They've also spread a lot of goodwill that reaches farther than any of us will ever see.  Thanks again to everybody who took part in this historic event!
BCM Stats:
SMI was founded by Kurt Wedberg in 1995 and specializes in all types of mountaineering guiding and instruction year round in the Sierra, as well as guiding expeditions to high peaks on all seven continents.  Kurt has recently climbed all 7 Summits and has guided over 80 expeditions to high peaks in Africa, Alaska, the Alps, Antarctica, Argentina, Bolivia, Ecuador, Mexico, Nepal, Peru, Russia, Tibet, and Turkey. Kurt runs Sierra Mountaineering International from his hometown of Bishop, CA along the slopes of the beautiful Eastern Sierra. Additional information can be found at http://sierramountaineering.com. 
Bill Long