Miss Mountain Obsession Search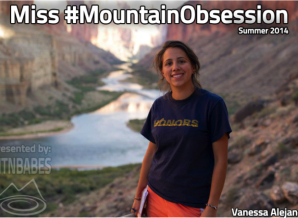 It is that glorious time of year where the larches begin to turn, the planks are getting tuned up and you start to obsessively check your local ski hill's forecast. Yes, autumn is upon the Global Mountain Tribe. In addition to sitting around a fire in hoodies with a mug of HC and Baileys in hand, it also means that it is once again time to begin the search for the next Miss Mountain Obsession!
The purpose of Miss Mountain Obsession is simple: by showcasing amazing outdoor oriented females enjoying nature and kicking ass outdoors, Mountain Obsession, MTNBABES and All Peak aim to inspire females of all ages to get outside and GET AFTER IT!
Originally starting as an initiative between partners Mountain Obsession and MTNBABES, the Miss Mountain Obsession search will be expanded this round with the help of All Peak. All Peak Clothing will be graciously providing Miss Mountain Obsession with an awesome All Peak t-shirt and sticker pack.
The Miss Mountain Obsession search is quite simple. Begin by reading this article and thinking of an inspiring MTNBABE who you feel deserves to be recognized for their outdoor achievements and inspiring nature. Then visit the link at the bottom of this article and fill out an application. Boom! Your friend or family member has been entered. After a detailed review from our panel members, a winner will be selected. That is when the fun really begins for Miss Mountain Obsession.
Firstly, a section will feature the application of the inspiring MTNBABE and some photos of her kicking butt in the outdoors. Next, an interview and any social media blitz will take place with Miss Mountain Obsession. There will also be a few surprises that will be revealed once a winner has been selected.
Miss Mountain Obsession will be gifted a bunch of Mountain Obsession, All Peak and MTNBABE swag to rock in the great outdoors! After all, there is nothing quite like a beautiful, inspiring outdoor woman wearing Mountain Obsession and All Peak apparel while showing the guys how to get after it!
It is important to note that you don't necessarily have to nominate a crazy climber girl (although you can!), but any female who inspires you whether it is your gym teacher, or friend from your local outdoor store. Plus, absolutely anything in between! Just describe in the application below why you are nominating and they are entered.
Mountain Obsession, MTNBABES and All Peak look forward to your Miss Mountain Obsession applications.
http://www.mountainobsession.com/miss-mountain-obsession-application/
Spencer Madden is the President and Founder of Mountain Obsession. Mountain Obsession is a global tribe that strives to share and exchange clear, concise photo-centric content that is tailored to the mountain enthusiast's passion: The Great Outdoors. Mountain Obsession is creating a unique tribe that welcomes all open-minded, curious and interesting individuals.
Bill Long