The Making of a Brand: All Peak 2.0 (Part I)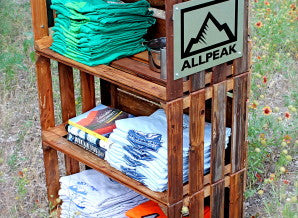 For our existing customers, you will notice a difference in your t-shirts. Let's call it All Peak 2.0 – appropriate for our second year. Thanks to feedback from our customers and lessons learned that only time and experience can provide, we are upping our game. We hope you notice.  
In our first year, it was all about getting the brand out there. We did that online and virally (through social media). In addition to creating more consistency in quality, adding more designs and increasing the size of our collectible stickers, there are a few changes you can expect in our second-generation products.  
Going Tagless   All Peak t-shirts are going to be tagless and 100% All Peak branded. We removed those pesky inside tags and replaced them with tagless printing on the inside back collar. There we added care instructions and size information. We will continue to feature the All Peak logo on the back, top-center.
Coming to a Store Near You!   We are partnering with retail locations in Colorado – starting in the heart of 14er country in and around Chaffee County. We choose to sell through small, locally-owned stores that cater to our audience of hikers and 14er enthusiasts and compliment our brand. Each store will be an exclusive carrier of All Peak products in their town/market. We'll announce new partnerships on our Twitter and Facebook pages, so be sure to follow/like us there.   
Motivational Hang Tags   As we move into some Colorado stores, it only made sense to have a proper brand representation to set us apart from other clothing options. For this, we added an All Peak-branded hang tag. You should recognize the image on the front of our tags as that of one of the most famous 14ers – iconic Longs Peak.  
Each tag is secured to our t-shirts using hemp twine and an antique, bronze safety pin. We chose hemp as a nod to Colorado's free spirit on cannabis legalization and because it is a sustainable and natural fiber. On the back of the tags, we feature a variably-printed, motivational quote from mountaineers, authors, celebrities and the like. That means that each tag has a different quote about hiking or mountains and is designed to help you, well…Climb Higher! A QR code takes you to a list of quotes and who said them on our website.  
We tested our concept over time and affirmed that we are on the right direction. We look forward to your continued feedback and ideas as we grow the All Peak brand. Thank you!