Mountain Mommas and Country Roads: Three Hike and Spa Combinations For Mom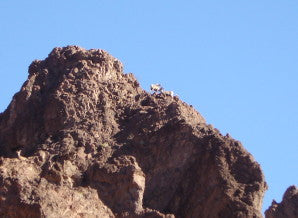 What better way to say "thank you" to mom for all she does than to treat her to a spa package.  Although that never gets old, you can change it up a little with a back to nature trip.  Take a country road to a far off mountain trail and plan to soothe those tired bones in natural hot springs.  
Before $200 spa treatments, our ancestors since time-forgotten, found healing and tranquility in natural hot springs…and maybe the occasional mud bath.  There's something alluring about hot springs. Maybe it's the raw connection to the earth's molten core or the airy views of towering mountains that make our personal concerns seem so small in comparison.  Whatever the case, these places occupy a special place in my memory.  
Here are three low budget options to consider that can offer high altitude workouts with rest and relaxation.  Yes, there are plenty of high-end spas and resorts that cater to your every whim. I'm not focused on those.  Rather, these places come from my personal experience and can be add-ons to your larger itinerary.  
#1:  Pagosa Springs, Colorado   
Meaning "healing waters" by the Ute's, Pagosa Springs is by far my favorite got springs experience. Tucked away in the mountains of south-central Colorado, about 35 miles from the New Mexico border, Pagosa Springs is a bit further than most people prefer to travel.  As a result, it doesn't get over-crowded and still maintains its' charm.  
Additionally, it offers year round activities like skiing and rafting.  There are a multitude of beautiful hikes all within 45 minutes of town. These range in difficulty from a simple 30-minute hike to see Piedra Falls to a more involved day hike on the West Fork Trail (aka Rainbow Trail).  The latter trail will take you by hot springs.  
After your hike, come back to town and soak in the town's many hot spring choices. The Springs Resort & Spa offers some great options.  It features the word's deepest hot spring.  You can get a day pass to use any of the 23 spring-fed pools for only $22.  If you like the luxurious amenities, you can book a room and treat mom to an array of spa amenities.  
#2: Idaho Springs, Colorado   
If you are in Denver, Idaho Springs is a quick 45-minute drive west and close to a few Colorado Fourteeners (Mount Bierstadt, Mount Evans, Grays Peak, Torreys Peak).  Bag a couple of peaks with mom in the day and still make it in time for dinner and a hot soak by nightfall.   Idaho Springs is a great choice for convenience. 
The town is conveniently located off I-70 and has a quaint charm with shopping and dining selections.   Indian Hot Springs is your best bet for lodging and hot spring experience in Idaho Springs.  It has a variety of lodging options to choose from to meet your budget.  The facilities are a bit old and somewhat dated, but the hot springs are timeless and can work magic on sore muscles.  
#3: Las Vegas, Nevada  
When you've had enough gambling and shows and feel you need to work off the midnight buffet in Las Vegas, there are some great hikes within an hour of the city. Most people don't realize these natural options exist!  
Just past the Hoover Dam about 10 minutes to the right, there's a non-descript parking lot (now paved – thank you).  This serves as the trailhead for the Arizona Hot Springs. This place is an absolute gem in my opinion.  When I last made the trek, it offered my whiskey-soaked friends a timely diversion from bachelor party activities to help clear our heads.  
It is technically not a mountain hike, as this area occupies slot canyons in the Lake Mead area, but is still worthy of mention for a hike with mom.  Not far off to the east are the Spring Mountains that presents a handful of hiking (and technical climbing) options near Mount Wilson. The 5-hour hike to Arizona Hot Springs winds you through breathtaking volcanic rock, slot canyons.  At times you feel like you are on another planet.  If you are lucky, you can spy a mountain goat or two on the higher rocks.  
The trail takes you down to a refreshingly cold Colorado River and then snakes back to the hidden springs, maintained by the National Park Service.  There are a couple of pools to soak in and temperatures can range up to 111 degrees.  The best time to hike is anytime but summer months.  
Although I never spent time on these trails with mom, I think she would have loved to try it.  Whether your mom is a "mountain momma" or not, time spent alone on a trail with mom is time well spent. Wouldn't you agree?