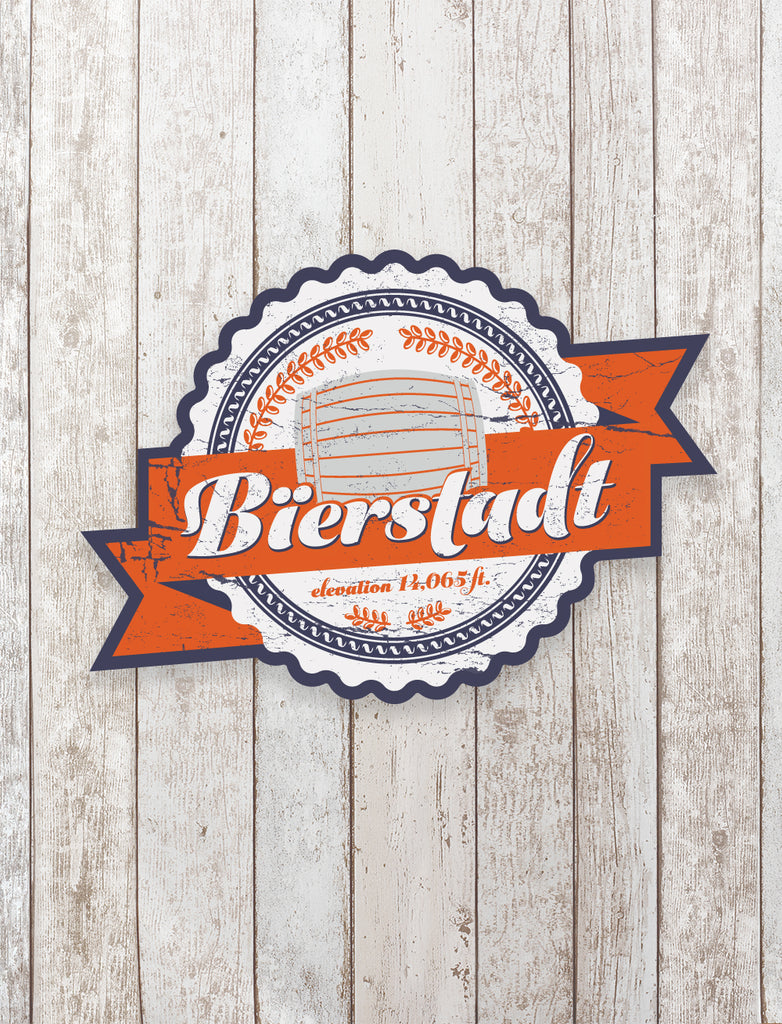 Arguably one of the most popular and well-trekked Colorado 14ers, Mount Bierstadt is visited by over 40,000 people a year. It is easily accessible from Denver and has a beautiful approach. It is also one of our favorite designs. For avid 14er fans, this design is both playful and memorable.
For the design, we wanted to give it a beer label feel. In a state that ranks 2nd behind California with the number of breweries, beer is serious stuff! It should come as no surprise then, that the first thing people think of when they hear the name Bierstadt, is beer!
Bierstadt translates to "Beer City" in German. Interestingly, the peak's namesake has nothing to do with this sudsy libation. Rather, the peak is named for a famous American landscape painter Albert Bierstadt. He visited Mount Evans in 1863 and, it is thought, climbed a nearby peak (possibly Bierstadt). The mountain was officially named after him in 1914.
Regardless, the beer theme is what we were going for in our design. You could slap our sticker on a beer bottle, stein, can or growler of your choice and it would look like it belonged there. The size and shape are reminiscent of Old-World beer brands. The round scalloped edges should remind you of a bottle cap. The large keg in the center confirms the theme and the umlaut over the stylized Bavarian letters add to the authenticity.  
Finally, there's a nod to a feature found at the beginning of the trail – the willows. Two willow branches hug the keg design from both sides. The willows are a prominent and unique part of the Bierstadt trail. The common route at Guanella Pass starts above treeline and takes you through the largest willow bog in Colorado.
Anyone that has hiked the trail before 2011 can recall the arduous trek through the dreaded willows. Hikers would get "bogged-down" in the mud, scratched-up, and often end up trailblazing new routes. The construction of a raised wooden boardwalk eliminated these problems and helps preserve the willows from being trampled.
We hope you enjoy your Mount Bierstadt design responsibly!
Side Note: A shout-out to our All Peak Designer Amanda Hamilton, who created the Bierstadt design. Amanda's originality and artistic aptitude have their fingerprints throughout our catalog.
Sources:
USDA, Forest Service https://www.fs.usda.gov/wps/portal/fsinternet/cs/recarea?ss=110308&navtype=BROWSEBYSUBJECT&cid=FSE_003738&navid=110240000000000&pnavid=110000000000000&position=generalinfo&recid=28386&ttype=recarea&pname=Bierstadt%20Trailhead
Colorado Fourteeners Initiative https://www.14ers.org/2018-colorado-14er-hiking-use-estimates/
Armchair Mountaineer https://armchairmountaineer.com/mt-bierstadt
Continue reading